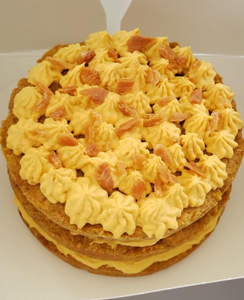 Catcake - Chicken Harvest
Regular price $12.00 Sale Price
A mixture of sweet and savory, our Chicken Harvest Catcake contains chicken, pumpkin, apples, honey, greek yogurt and whole wheat flour. The frosting is made from cream cheese, honey, and pumpkin. All topped off with chicken jerky sprinkles. A Cat sized version of our Chicken Harvest Pupcake flavor.
2" Cake with 3 layers
Ingredients:
Cake: Pumpkin, Chicken, Apples, Greek Yogurt, Whole wheat flour, Egg
Frosting: Cream Cheese, Honey, Pumpkin 
Note:
- Catcakes are meant to be served as an occasional, special treat only. We do not recommend allowing one cat to eat the entire cake in one sitting.
- Catcakes are available via delivery only and require at least 48 hours notice before delivery date
- All of our products contain zero preservatives and must be refrigerated to stay fresh. Catcakes should be consumed or discarded within 1 week.