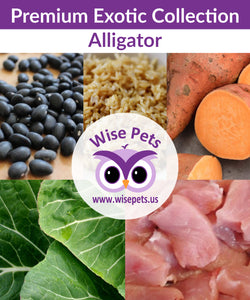 Premium Exotic Collection - Alligator
Regular price $8.00 Sale Price
Part of our new Premium Exotic Collection!
Alligator is one of our most unique new proteins. Alligator is a lean meat that has high protein, low fat and low cholesterol. Our Alligator is guaranteed to be farm raised and USDA inspected. Alligator is also a unique protein that can be a great choice for pets with allergies to other proteins, such as chicken or beef. Our new Alligator treats recipe is based around classic creole dishes from the bayou and features Alligator, Sweet Potatoes, Collard Greens, Black Beans, and Brown Rice. Suitable for all omnivore pets including dogs.
Available in Regular Sized Bags for $8 and Mini Bags for $5
Ingredients: Black Bean flour, Alligator, Sweet Potatoes, Collard Greens, Brown Rice, Eggs, Water, Vegetable Oil
Note: All of our treats contain zero preservatives and must be refrigerated to stay fresh. Please use or discard by the date listed on the bag.
**Please select a time, size of bag and quantity to complete your purchase**