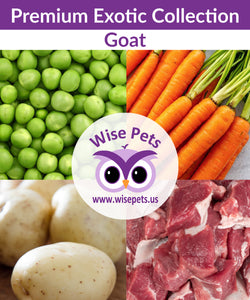 Premium Exotic Collection - Goat
Regular price $8.00 Sale Price
Part of our new Premium Exotic Collection!
Goat meat is a delicious and nutritious meat that is enjoyed the world over and quickly gaining popularity here in the United States.  Our Goat is guaranteed to be farm raised on pasture and processed in a USDA inspected facility. Our Goat treats recipe contains ingredients similar to a common Goat Stew eaten across the world. Featuring Goat, Carrots, Green Peas and White Potatoes. Suitable for all omnivore pets including dogs.
Available in Regular Sized Bags for $8 and Mini Bags for $5
Ingredients: Green Pea flour, Goat, Carrots, Green Peas, White Potatoes, Eggs, Water, Vegetable Oil
Note: All of our treats contain zero preservatives and must be refrigerated to stay fresh. Please use or discard by the date listed on the bag.
**Please select a time, size of bag and quantity to complete your purchase**