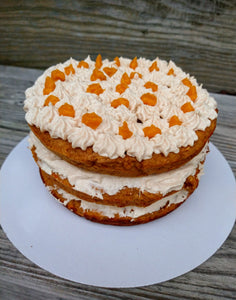 Pupcake - Salmon & Sweet Potato
Regular price $20.00 Sale Price
Fulfill your pet's craving for a sweet and savory treat with this Salmon and Sweet Potato blend.  This cake is tasty and a big hit with all sorts of pets including dogs, cats and pigs. The frosting is made from cream cheese and salmon, topped off with sweet potato drops.
6" Cake with 3 layers
Ingredients:
Cake: salmon, sweet potato, honey, greek yogurt, whole wheat flour, egg
Frosting: cream cheese, salmon
Note:
- Pupcakes are meant to be served as an occasional, special treat only.  We do not recommend allowing your dog to eat the entire cake in one sitting.
- Pupcakes are available via delivery only and require at least 48 hours notice before delivery date
- All of our products contain zero preservatives and must be refrigerated to stay fresh. Pupcakes should be consumed or discarded within 1 week.